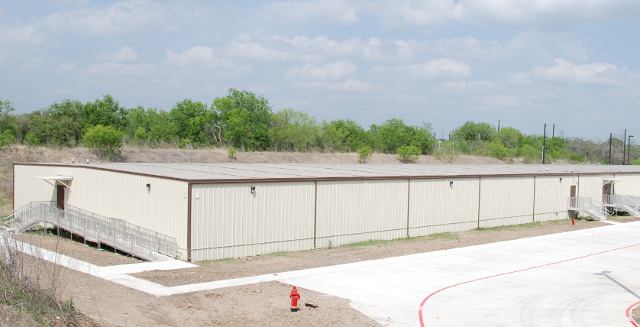 San Antonio, TX – ECHO DCL is pleased to announce the successful completion of a 22,990 sq. ft. modular behavioral health clinic at Fort Sam Houston in San Antonio, TX. ECHO DCL provided a full turnkey, design/build project through the US Army Corps of Engineers. This behavioral modular health clinic includes a fire sprinkler system, fire alarm and mass notification, a nurse call system and interior communication cabling. ECHO DCL's scope of work on this project also included providing the foundation system, 1200 Lft of outside plant fiber and copper, domestic and fire water runs, sewer run, primary and secondary power, 60,532 sq. ft. of concrete parking lot and driveway, gutters and downspouts, awnings and ADA compliant steps, decks and ramps. The ECHO DCL team mobilized on January 3, 2011 and celebrated early completion of the project to the customer's satisfaction on April 6, 2011.
Ft. Sam Houston serves as the command headquarters for the United States Army North, United States Army South, the Army Medical Command (MEDCOM), The Army Medical Department (AMEDD) Center and School, the Fifth Recruiting Brigade, Navy Regional Recruiting, the San Antonio Military Entrance and Processing Station and the Medical Education and Training Campus (METC). As of October 1, 2010, Ft. Sam Houston along with Randolph and Lackland Air Force Bases became Joint Base San Antonio under Air Force administration.
ECHO DCL is proud to be the only SBA 8(a), HUBZone, Veteran and Native American owned manufacturer of modular structures in the U.S. We at ECHO DCL strive to build the highest quality modular buildings in the industry, provide our customers the highest quality service, and deliver a product that is superior to all of our competitors. We know that the competition is doing a good job, and as a result we need to exceed our customer's expectations; we believe we accomplish this goal every day.