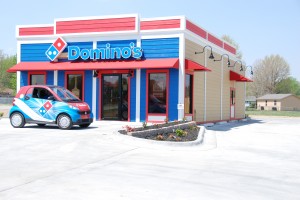 ECHO DCL completed the design and construction of one modular restaurant facility.  Scope of work included design, engineering, and manufacturing.  ECHO DCL completed our first quick turnaround solution for the fast food modular franchise. Construction included delivery and setup.
An ECHO DCL Superintendent was present from Start to Finish.
The 1380 square foot movable modular franchise offers all the amenities of a full sized commercial kitchen with its large walk-in cooler, state of the art pizza-oven and drive through window for patrons on the go. Post assembly, this modular restaurant is virtually indistinguishable from any typical site-built restaurant and offers each franchise uniqueness and diversity in floor design.
Read More about this modular restaurant project.