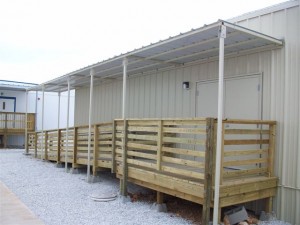 Surveyors fanned out across North Texas on Wednesday to access the damage from as many as 13 tornadoes that pummeled towns around Dallas, flattening homes, flipping tractor-trailers and grounding flights.
A preliminary report issued by the Texas Department of Public Safety, Division of Emergency Management shows the cities of Arlingtonand Lancaster received the brunt of the damage during Tuesday's storms.  The small town of Forney received devastating damages as well.
As the storms were building and as ECHO DCL Employees watched weather reports, we were reminded of the deadly tornadoes that ripped through Joplin MO last year.  An EF-5 tornado with 200+ mph winds tore through the city of Joplin damaging and destroying approximately 30-percent of the city.  It killed more than 150 people, ranking it as one of the single deadliest tornadoes in U.S. History.
In the days after the storm, Joplin School District and other local and state officials set a goal to return students to schools on the previously scheduled start date of August 17, 2011.  Ten Joplin School District buildings were damaged or destroyed as a result of this devastation.  ECHO DCL was pleased to aide in the efforts to restore normalcy to the school by successfully completing a 3,000 sq. ft. modular locker room facility for the East Middle School at Crossroads Industrial Complex.
ECHO DCL has a corporate headquarters in McKinney, Texas and a state-of-the-art manufacturing plant in Durant, OK.  ECHO DCL was first approached about the East Middle School project in mid-July 2011. The ECHO DCL team members then mobilized and completed this project in less than 30-days.
Modular Construction was ideal for this situation.  Modular Buildings and/or Modular Classrooms can be designed built and set up in a matter of weeks.  ECHO DCL offers a complete turnkey product.  We at ECHO DCL strive to build the highest quality modular buildings in the industry, provide our customers the highest quality service, and deliver a product that is superior to all of our competitors.