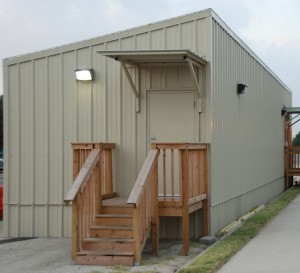 Customer Name:

MEDCOM

Name/Title:

CPT Christopher Everett

Address:

Satellite Refill Pharmacy,
Scott Road
Fort Sam Houston, TX

Project Name:

Modular Pharmacy Waiting Room for Satellite Refill Pharmacy,
Fort Sam Houston, TX

Contract Number:

W91278-11-C-0022

Prime Contractor:

ECHO DCL, Inc.

Contract Type:

FFP

1. Contract Date:

July 18, 2011

2. Mobilization Date:

August 27, 2011

3. Completion Date:

October 7, 2011

5. Location:

Brooke Army Medical Hospital, Fort Sam Houston, TX
ECHO DCL completed the design and construction of one modular waiting room for a total of 1,410 square feet.  Scope of work included design, engineering, and manufacturing.  Complete turnkey construction included delivery, set-up, fire alarm, fire sprinkler system to meet NFPA 72,interior building communications, site and building water, fire water, sewer and electric, awnings, decks, steps and ramps, automatic door openers, water barriers.  This facility is being used as a waiting room so patients do not have to wait in the exterior extremities.  ECHO DCL was on-site from mobilization to the completion of all work.  An ECHO DCL Superintendent was present from Start to Finish.
Learn more about our Healthcare Building Solutions.