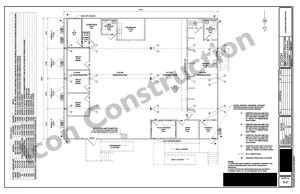 This Modular Pharmacy design is spacious enough to accommodate 7  private, individual, HIPA standard, booths.  It includes 5 offices and closets.
All of our modular building designs  are made in-house by our engineering team.  They are designed from the bottom up  to meet or exceed all current international building codes (IBC 06 09 12), plumbing codes (IPC 06 09 12), mechanical codes (IMC 06 09 12), and energy efficiency code (IEEC 06 09 12).  We also design to the current  ASHARA codes.  We are a complete design build.  This means that we take your concept and requirement and make it a reality that meets all the requirements of your area.
All units can be retrofitted to meet most requirements.
This modular pharmacy has box and conduits already installed for onsite cable pulling back to it's own communications room with it's own dedicated Air Conditioning.  The unit also is equipped with 4 large and two smaller HVAC units.  The modular pharmacy has sterile room with HEPA filtration.
This Modular building has a secure room for narcotic drugs.
Learn more about our Healthcare Building Solutions.
| | |
| --- | --- |
| Building Name | Pharmacy |
| Codes | 2006 |
| Bldg Size | 55′-0″ x 70′- 0″ |
| SQFT | 3850 |
| Serial Number | 3119 A-D |
| Number Of Floors | 4 |
| Date Built | 3/3/2010 |